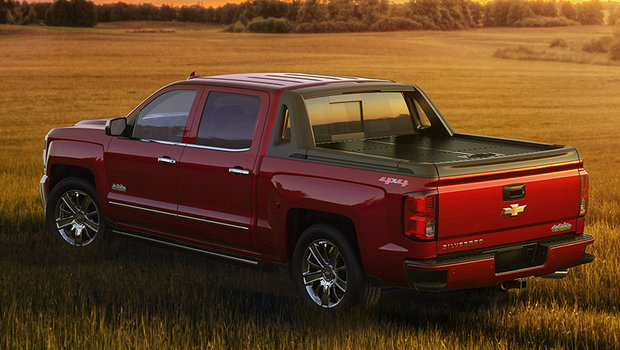 Full-size pickup trucks are already among the best-selling vehicles in Canada, and the most popular segment in the country, but this does not prevent manufacturers from continuously improving their offer to consumers. Take for example the new 2017 Chevrolet Silverado, a truck that stands out for its power, efficiency, comfort, and technology. If we are looking for a truck that requires no compromise, the 2017 Chevrolet Silverado is certainly a good starting point.
Three Engines in the New 2017 Chevrolet Silverado 1500
The Chevrolet truck range splits into three levels: 1500, 2500, and 3500. For this article we will focus on the 1500 models that are offered with a choice of three engines. In other words, there is a 2017 Chevrolet Silverado 1500 for every need.
The first engine is a 4.3-liter V6 that develops 285 horsepower and 305 lb-ft of torque. This engine is available in either rear-wheel drive or 4x4 and is paired with a six-speed automatic transmission. Unlike many V6 engines in other trucks that only reduce the starting price, the Silverado 1500's V6 engine is capable of towing large loads while being fuel-efficient.
Then come two V8 engines, one of 5.3 liters and the other of 6.2 liters. The former offers 355 horsepower and 383 lb-ft of torque while the second V8 offers 420 horsepower and 460 pound-feet of torque. In both cases, we get two very powerful engines, but the 6.2-liter V8 dominates its segment in terms of power and offers the best towing capacity in its class.
2017 Chevrolet Silverado 1500: The Best Towing Capacity in Its Segment
No matter which engine you choose in the Silverado 1500 lineup, you get a truck that is rugged, capable, and not afraid to tow heavy loads. That said, in the case of the Silverado 1500 with a 6.2-liter V8 engine, you get 12,500 pounds of towing ― the best capacity in the segment. The 5.3-liter V8 can tow up to 11,500 pounds while cargo capacity reaches 2,250 pounds.
To learn more about the new 2017 Chevrolet Silverado 1500, and discover all the comfort technologies it offers alongside its powerful engines, contact us today at Repentigny Chevrolet Buick GMC!