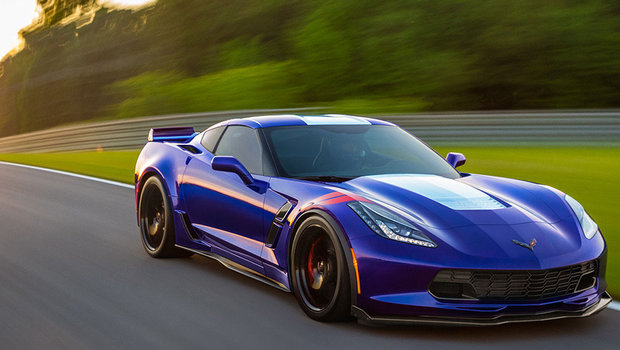 Presenting the high performance car by excellence, the 2017 Corvette Grand Sport!
An Awaited Return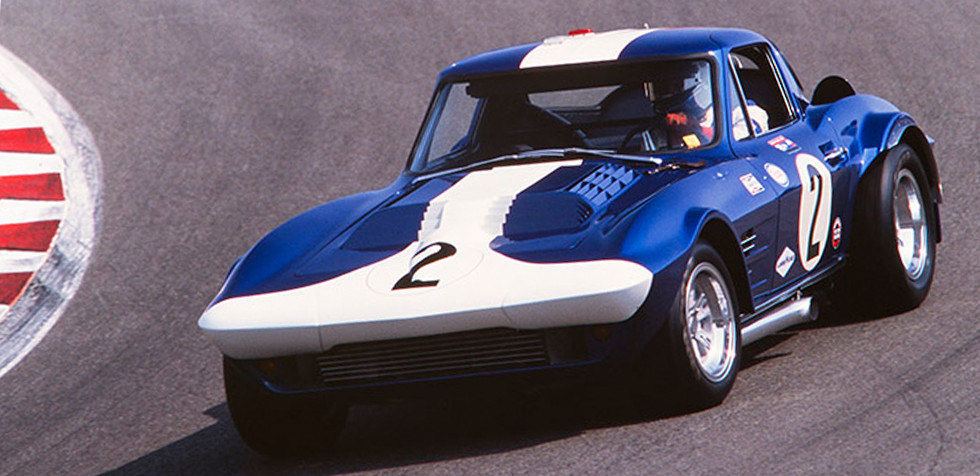 The latest addition to the Corvette lineup, the 2017 Grand Sport carries on the racing spirit of the original 1963 model, combining the power of the legendary LT1 6.2L engine with a lightweight, race-bred chassis and aerodynamics package to provide incredible grip and handling.
1963 Corvette Grand Sport Heritage
Born to dominate the track, the 1963 Corvette Grand Sport was build from lightweight materials and packed the power of a 6.2L (377 cu. in.) small block V8 engine. Only five prototypes were created, but their impact on the future of Chevrolet racing can't be overstated. All five original Grand Sport models exist to this day.

1996 Corvette Grand Sport Heritage
1996 marks the year the Corvette Grand Sport returned to the lineup with a limited number of 1,000 as a way to celebrate the end of the 4th generation of the Corvette production. This iteration was equipped with the high-performance LT4 V8 in addition to the ZR1 chassis and featured the iconic paint scheme of Admiral Blue with a white stripe and red hash marks over the front fenders.

2010 Corvette Grand Sport Heritage
The 2010 Grand Sport was built on the wider Z06 chassis and featured the 436 horsepower 6.2L LS3 V8 engine. It was a perfect blend of performance and efficiency, going from 0 to 96 km/h (0 to 60 mph) in 3.95 seconds and achieving 1.0g on the skidpad with 9.0 L/100 km (26 US MPG) highway fuel economy. A Heritage Package again featured the signature red hash marks above the front fenders.
Make the Track Yours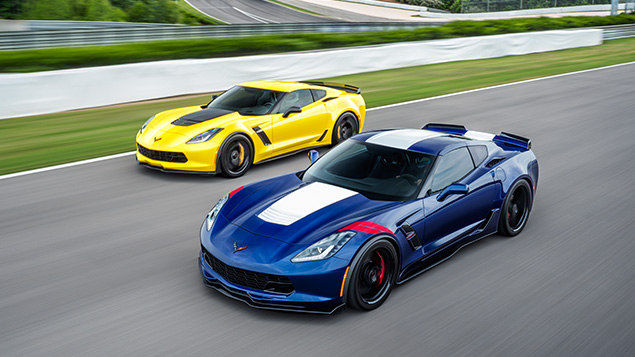 The 2017 Grand Sport features a 6.2L LT1 V8 engine, capable of 460 horsepower and 465 lb.-ft. of torque. The compact design lowers the hoodline, providing optimal weight balance. A dry-sump oil system delivers oil flow through the most extreme cornering, helping the Chevrolet Grand Sport deliver a consistently high level of performance.
Pick Your Transmission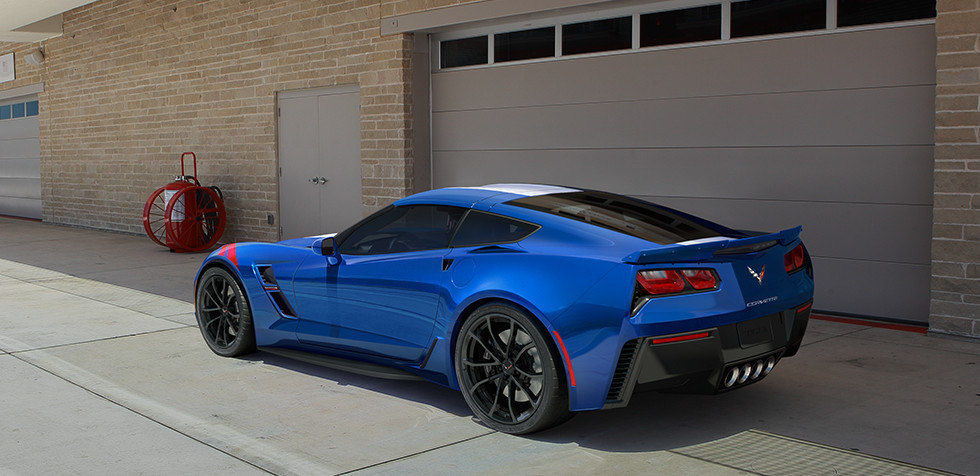 Choose between a standard 7- speed manual or an available 8- speed paddle-shift automatic. The standard 7- speed with Active Rev Matching enhances the driving experience by simulating heel-toe shifting to perfection. The available 8- speed paddle-shift transmission offers the smooth control of an automatic but with quick, precise shifts that rival dual-clutch automatics in speed and precision, and a selectable manual mode for track driving.
Every Detail Counts

Grand Sport combines signature Corvette DNA with ingenious engineering to create a stunning, track-ready aerodynamic sports car. Every exterior element has a purpose, including wide fenders to accommodate wider tires, giving Grand Sport incredible grip, aerodynamics, airflow and overall performance. And with as many choices of colour as well as unique striping and fender hash marks, you can definetly create the Grand Sport of your dreams.
Always Cool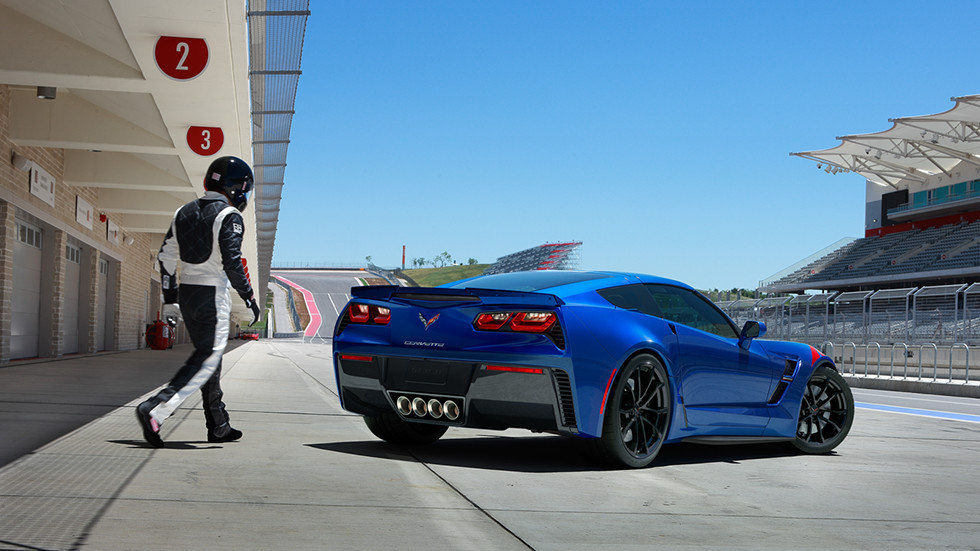 A unique mesh grille features brake-cooling intakes, and a massive hood vent helps keep the engine cool while contributing to downforce. Standard front and rear brake-cooling ducts, large rear-fascia openings and unique air blades over the inlets on the rear fender all help keep vital components cool during extreme driving.
The 2017 Corvette Grand Sport Heritage Package features hash mark fender graphics in six colours and unique interior touches, like brushed aluminum trim with hash mark details. And with available full-length stripe in five colours, you can personalize your Corvette like never before.
Go Topless

Easily lower the entirely electic top by the press of a button of by using the remote, even when driving up tp 48 km/h!
Grand Sport Collector Edition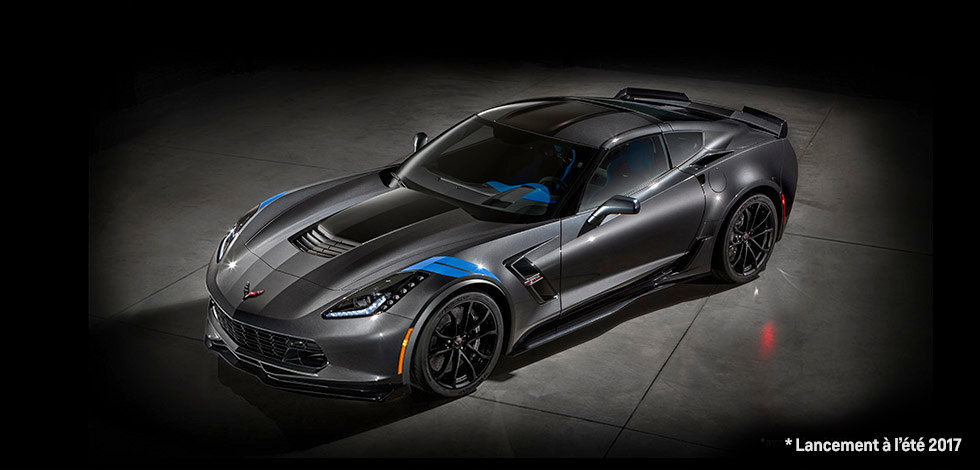 This limited production edition comes in all-new Watkins Glen Grey body colour with Tension Blue fender hash marks and full-length Satin Black stripe, all sitting atop unique cup-style black wheels. Step inside and you're greeted by a unique, driver-centric Tension Blue leather and suede wrapped interior with blue accent stitching. Available mid-model year 2017.
Has the 2017 Grand Sport caught your attention? Contact us today for more details!